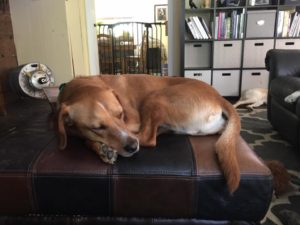 We understand that boarding can be an unsettling experience for both you and your dog. At Four Leggers, we do our best to ensure your dog remains comfortable and happy during their stay! We offer boarding in our facility, as well as cage-free in-home boarding with our staff members for our special needs or senior pups, allowing your dogs to remain in a comfortable home away from home. In addition to our  boarding services, daycare is included daily in your dogs' boarding experience!
We pride ourselves on giving your the dog the comforts of home while your away! Diets are prepared according to owner's specifications.
1 Dog        $62 (At Four Leggers)
Additional Dogs        $30
1 Dog (In Home)        $75
**Daycare clients who attend Four Leggers at least once per week receive discounted boarding rates!**
Peak Times: Peak Times are defined as the 3 days prior and 3 days following any federal holiday. Peak Rates run at 1.5x the facility boarding rate, and 2x the in-home boarding rate.
Peak Times Include The Following: New Years Day 1/1, Martin Luther King Jr Day 1/20, President's Day 2/17, February Vacation Week 2/17-21, Easter 4/12, Spring Break 4/20-24, Memorial Day 5/25, Independence Day 7/4, Labor Day 9/7, Columbus Day 10/12, Veteran's Day 11/11, Thanksgiving 11/26, Christmas 12/25